From time to time, Niall Mulrine gets involved with charities local and national.
To date, I have fundraised and participated in the annual 12KM walk for Our Lady's Children's hospital of Crumlin that takes place around the coast of Downings on New Year's Day. It's a terrific experience seeing the people out of bed early to travel to the location for the walk. Some people might not have had much time in bed due to New Year's celebrations but they still manage to come along to participate. There are always great turn outs and this event is organised by Eleanor Mooney.
 Our Lady's Hospital Of Crumlin Charity 2010 Italy
2010 was the first year I took up the challenge of the Crumlin Overseas Challenge in Italy, and cycled 5 continuous days through the landscape and tough climbs of the Rimini region. I ran events locally to fundraise and bring more awareness to the local community with regard to Crumlin Hospital. This included getting children in national schools involved. A large number of children in the local schools have either been to this hospital themselves or have siblings or peers that have been patients in the hospital.
Our Lady's Hospital Of Crumlin Charity 2011 Italy
Again in September 2011, we flew off to the panoramic hills of Northern Italy. Lots of training and preparations had began since early January in wet and cold weather, very little warm days!! But it Italy that year we had soaring heats of up to 34 degrees Celsius, which was tough on a lot of us, but we thoroughly enjoyed it also. The views again after the long climbs were breath taking, cycling through small historic towns that always welcomed group of cyclists in their coffee shops . If you would like to help the hospital and donate to this worthy cause follow this link: http://www.cmrf.org/fundraiser/show/355
In February 2011 I also sponsored and rose awareness for a local charity called Ribbon Rhythm festival in aid for Autism support for Donegal Families, which was be great weekend of music and fun. The fully packed weekend of artists will be in the Mount Errigal Hotel, Letterkenny, Co. Donegal 26th & 27th February 2011. A great weekend was had, but the attendance was not what was expected. For more info http://www.ribbonrhythm.com/
Donegal Pet Rescue 10KM Run May 2011 Letterkenny Northwest 10KM
Again in2011, on the May Bank Holiday weekend, I raised funds for Donegal Pet Rescue and took part in my first 10KM Run at the Northwest 10KM in Letterkenny. Go to Donegal Pet Rescue for more information. www.dpr.ie
If you would like to find out more about the race itself, go to the Northwest 10KM site.Donegal Pet Rescue
Our Lady's Hospital Of Crumlin Charity 2012 Majorca
2012 as a quieter year for Niall and charities, as he and Maggie welcomed their second baby, a son Conor, who was preceded by Abigail 18 months previous, time was more scarce.
But some events I did help locally, was an event I ran locally which is known well called the Meentycat 15KM Airtricty, whom I raised money for the local  Twin Towns Boxing Club. After the success of the previous years, the day out was a great event. For details of 2011, log on to http://www.airtricity.com/community/presentation-of-the-2011-airtricity-meentycat-wind-farm-community-fund/?section=ROIDOM
For review of the 2012 Airtricity event, http://www.airtricity.com/press-releases/a-stroll-in-the-park-helps-fund-local-projects-around-meentycat-and-culliagh-wind-farms/?section=ROIDOM
Ballybofey 15KM walk for
Twin Towns Boxing Club
Our Lady's Hospital Of Crumlin Charity 2013 Majorca
What a great opportunity of benefiting the children of Crumlin hospital and riding alongside a sporting hero of Ireland, since I was a little boy. I remember Stephen Roache's victories when I was growing up and he did change the world of cycling for Irish people in a positive way. The amount of Peugeot racing bikes on the roads of Ireland in 1990's was all down to Stephen Roache's fame. Raising close to €4,000 from the generosity of the Donegal people from table quiz's, church collections and sponsorships.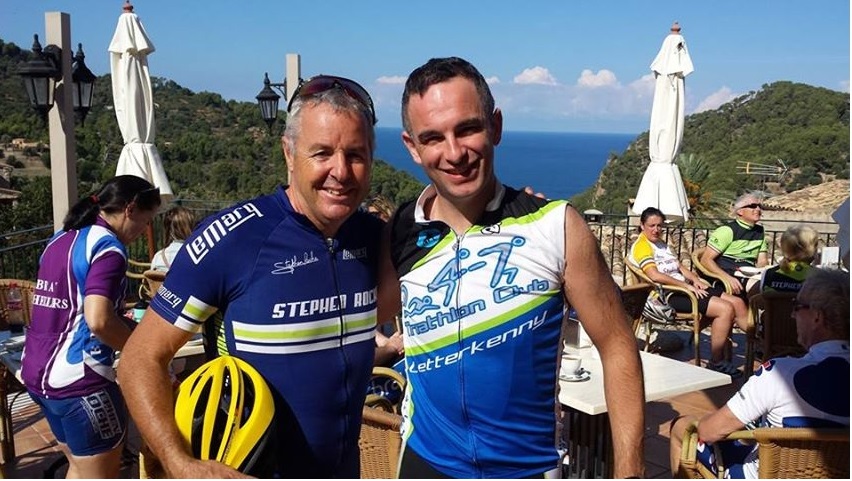 Pieta House-Darkness Into Light Event 10th May 2014
This year, I been very privileged to be involved with the setup of the first Darkness into Light 5km Walk/Run taking part in Letterkenny, Co. Donegal on 10th May at 4am. The aim is to have people cross the finish line when the sun begins to rise, representing hope to those suffering with depression and suicidal thoughts. As Donegal is one of the highest suicide pockets of Ireland, this inaugural event could be the beginning of a great relationship for Donegal and Pieta house to maybe have a support centre in this county. For more info on the charity and supports contact their website www.Pieta.ie