On 18th July 2013 a report titled "HOUSES OF THE OIREACHTAS -JOINT COMMITTEE ON TRANSPORT AND COMMUNICATIONS – Addressing the Growth of Social Media and tackling Cyberbullying" was launched by John O'Mahony.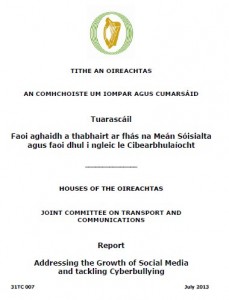 95% Irish teenagers have Facebook Accounts
Only 5% of Irish teenagers are not subscribed to Facebook when results were compiled in 2012 by C.Machold, which left jaw dropping results for parents who are blissfully ignoring the fact that their children's playground is now ONLINE  and not down the road. But parents did not go unshaved either as a survey of 1000 Irish Adults in February 2013 showed 52% adults had Facebook accounts also. Where is everyone today? We are all on Facebook land, if it were a country it would be the second biggest in the world with a population of 1.2 billion inhabitants uploading their daily digital dairies.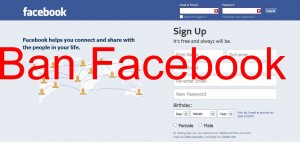 Oireachtas report gave 8 recommendations for the Irish People
When age restrictions are set on social media platforms and it is found that children under these ages are registered, the platform must be removed and deleted.
Recommends that Child Protection Guidelines incorporate guidance for professionals working with children to help them when encountering cyber-bullying issues.
National procedures must be setup so that school principals have a clear protocol to follow.
Employers should draw up a social media policy for staff to be aware of.
Review International practices in relation to Pre-Paid SIM card registrations to minimise the anonymity of phones.
Recommended that a single body be given the responsibility for monitoring social media content and online reputation.
Professional development should be given to public officials working in criminal justice so they can deal with cases of cyber-bullying.
More education of parents, children and teachers how to use social media safely should be accessible.
17% of Irish Children 12-18 years old admit being cyber-bullied at least once
Several reports globally direct people to the notion now that cyber-bullying is not the main reason behind suicides. These two issues should be treated separately. It does not rule out the fact the cyber-bullying can contribute as a trigger to suicide. Before the world moved to the cloud networks, bullying had always been prevalent in all walks of life from the playground to the workplace but we did not hear as much about it as less people spoke out about their horrors. People may have become ill, depressed, stressed, drug or alcohol dependent following abuse by their bully, but were still too ashamed to say that they had been a victim. Pride is an ugly word, yet it's worn so tightly around our lips that we feel compelled to be someone that our environment want us to be. Where is the mould? We are so far away from what is natural, to that thinking on our own feet has become alien domination in our ever clouding minds.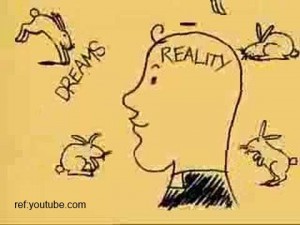 For this point, I refer to the Fr. Dougal Maguire reality vs. dreams outlook. Remember Fr. Dougal had a hard time splitting the line between living in a world of dreams where everything is rosy in the garden and rabbits are dancing , to believing all the real stuff in life is just in his head, such as "Like Jesus died and came back to life 3 days later, who would believe that Ted?" We are similarly the same, we are following a religion online that we say we don't believe its happening but we attend our regular rituals to keep in with the community. On average we can spend up to two hours a day trawling through our social media statuses and other people's photos. Where does this bring us to at the end of the day? More knowledge of silly happenings that people have posted such as their tv viewing habits -"Can't believe I watched 2 episodes of Eastenders in a row, Thank god for Sky +" When we are stuck for meaningful conversation we talk of fictional characters consuming our days of living with negativity and unimportant interactions. Turn off the TV, lift a book, e-book or catch up on current affairs online that may be affecting you in some way so we can bring our mind to a more productive level. Live life doesn't just pass through with memories of soaps.
Children spend more time online than outside
Canadian paediatric expert Dr. John Leblanc carried out research into want is happening to our children in the modern world. Since 2001, 103 suicides have been linked to cyberbullying. We only have to think back over the last two years of the deaths of Amanda Todd, Erin Gallagher, Ciara Pugsley, Megan Meier, Phoebe Prince, Ryan Halligan and many more. All young teenagers only starting out in life and could not consume daily living anymore with the abuse they were getting at school, home and online. Even when these people died, they continued to get abused and often other bullying began on such pages as RIP Memorial Pages which I wrote about before, that people agreed on the adversary of such creations.
Sharing a stage at a bullying conference last year with survivors of bullying was a great moment where I got to meet people that tried to take their lives due to the torture they got, but they managed to turn their lives around, by some great intervention of certain people. Without supports, people are alone and no one deserves to have a situation that they cannot turn to a true friend and share their troubles. But there are situations we can be in a room full of friends and feel the loneliest person there and we cannot always speak up about our true feelings.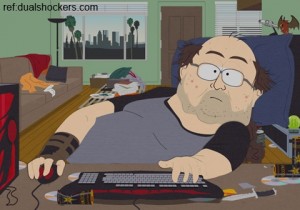 Many experts have said that getting the child detached from the Playstation or computer and going outside to live "Real live" with friends that are not "Virtual". Turn off the TV on your phone whilst getting snuggled up in bed!!! Lift a book again…. What children should be doing is getting their knees cut when running down a hill after a ball, tripping on a skipping robe, falling out of tree are all stories people share fondly about their childhoods. Self-esteem comes with playfulness and interaction with others.
I would like to hear if you agree or disagree with these thoughts, by emailing help@Cybersafetyadvice.com
To catch up on any missed articles written by Niall Mulrine of Pc Clean, go to www.PcClean.ie  and www.CyberSafetyAdvice.com
Related articles