This is a guest blog from Kay Stephens of www.CyberSlammed.com
When I speak to school kids about a particular form of cyberbullying, I admit I play a little "gotcha" game with them. They never see it coming.
Who is the The Star Wars Kid?
First, I show them a video of The Star Wars Kid, the 14-year-old Canadian teenager who did what all kids have done at some time; he played make believe in front of a video camera. In this footage, Ghyslain Raza takes a metal golf ball retriever and wields it like a double-bladed light sabre from Star Wars, doing an earnest dodge, parry thrust, fighting off invisible warriors.

Do we actually know what is VideoJacking?
I let the school kids in the audience react the way they usually do—with giggles. In its original context, I doubt Raza realized how awkward these earnest movements came across. He was just messing around, having fun. Then I tell them how several classmates of Raza's found and uploaded this video to YouTube in 2002, right at the beginning of nationwide video sharing. This is a tactic we call "Videojacking," where someone hijacks the target's own video and uploads it to a video sharing site without permission.
The video went viral, spawning more than a billion hits. Raza was blindsided with unexpected Internet fame, all of it unwelcome. He was cyberbullied and mercilessly, taunted at school, in his neighborhood. He felt he could not escape. If millions of harassing emails and comments weren't enough, he found himself mocked and parodied by mainstream media including TV episodes of The Venture Bros.; the American Dad! episode "All About Steve"; multiple episodes of Arrested Development, beginning with "The Immaculate Election"; Ned's Declassified School Survival Guide; Cory in the House; Teen Titans; and South Park.
He said he lost his friends and dropped out of school. The trauma endured and he ended up entering a psychiatric ward for teens. His life, his family, would never be the same. His family filed a $250,000 lawsuit against the families of the four classmates who had uploaded the video.
After I say all this, I look at the kids' faces. The "gotcha" moment has so much more impact than a straight up lecture. When giggles and laughter turn to shock and somber reactions, that's called empathy. I sure wish all of the people who thought it was a riot to parody Raza in their TV shows could have displayed some empathy above their need to be "first" on the Internet Meme Train.
Ghyslain Raza speaks about his ordeal and how he felt
Raza, now, 25 and a graduate of McGill University with a law degree, has come forward to the media for the first time since his ordeal, prompted by the rash of high-profile cases of cyberbullying, which have been connected to suicides.
"What I saw was mean. It was violent. People were telling me to commit suicide," he recently told a French-Canadian journalist . "No matter how hard I tried to ignore people telling me to commit suicide, I couldn't help but feel worthless, like my life wasn't worth living," he says.
Here's your takeaway. Show this video to your kids.  Don't tell them why at first. Then tell them what happened to Raza. Get them to understand that sharing even silly videos of themselves beyond their friends opens them up to the potential of being the next nasty Internet meme. Give them the Golden Rule speech: Before you decide to upload a video of your friends, ask yourself first, "what if someone did this to me?"
What has the kids learned of this experience of Ghyslain Raza?
In this Internet age, the message we need to get through to kids is one of empathy first, above entertainment. The very first reaction to finding a video of someone shouldn't be: "Oh this is so going up on YouTube" but rather: "how badly could this harm someone once it gets shared?"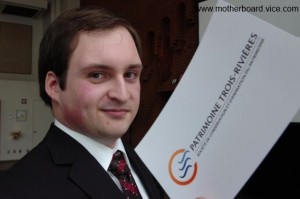 If kids (and adults) shrug and think it's not that big of a deal, just look at Raza, who had his entire adolescence destroyed by the thoughtlessness of a nation looking for giggles. He is a brave young man who has earned his right to dignity and a reminder to badly cyberbullied teens everywhere they they can—and—will move beyond one frozen moment in time.
The story of Raza and "Videojacking" is only one of the cyberbullying tactics covered in the book Cyberslammed™ Understand, Prevent, Combat And Transform The Most Common Cyberbullying Tactics by Kay Stephens and Vinitha Nair.  Called "well-thought-out, and practical, designed to end the bullying without causing more pain" by Indie Reader, Cyberslammed provides practical strategies to take control of six of the most harmful digital conflicts that teenagers face today.
—
Kay Stephens
co-author Cyberslammed
info@cyberslammed.com
207-542-9320
For daily cyberbullying tips and updates: www.facebook.com/cyberslammed
Libraries & Schools get 10% off Cyberslammed; email us for a promo code!
Related articles