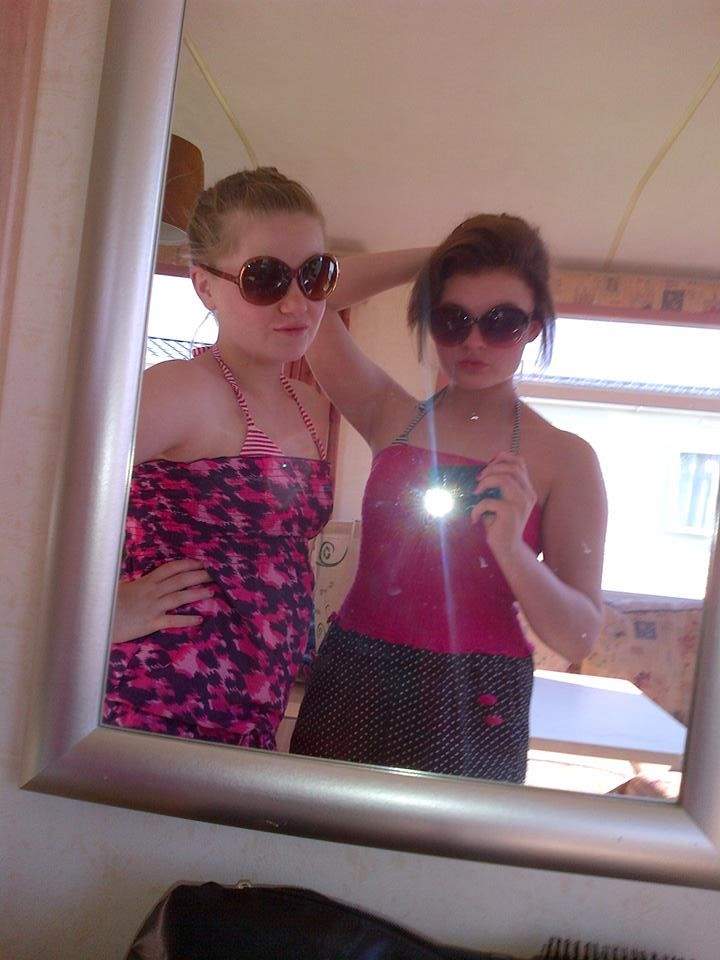 Hannah Smith 14 years of age died tragically by suicide on Friday 3rd August 2013 at her home in Lutterworth, Leicester, England. Hannah is no different to any other teenager who loves to socialise on Social media sites such as Ask.FM. Children live on social media to keep in contact with their friends and family, but ASK.FM has hit the headlines a lot in the last few years about cyber-bullying incidences that lead to suicide. Hannah, who was studying for GCSEs, went on ASK.FM to ask for advice on eczema which gave users ammunition to bully her as she was already feeling low in confidence.
Comments on ASK.FM turn to requests for Hannah Smith suicide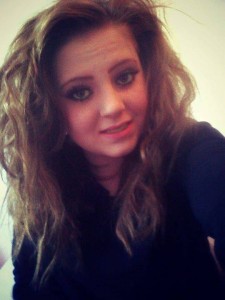 Abuse turned to sheer evil comments on ASK.FM when annoyomous users commented "u ugly f**k go die evry1 wuld be happy", "go comit suicide" and "do us all a favour n kill ur self". This is the type of comments that are put online that cause so much harm it's hard to believe someone can actually write these words. According to Deborah Smith, who is Hannah's step mother, told the Daily Mirror that "There was no warning. She was meant to be getting her haircut and coming to a Pink Floyd tribute concert with me. It's just so tragic. She had everything to live for. She even tidied her room before killing herself."
A comment I never forget a young male teenager saying in one of my Internet Safety Workshops, was that people that type abuse and send photos like this online are "Keyboard warriors". They are different personalities to what they show others in an offline world. These people often are victims to bullying and they regress their anger out to other innocent prey.
Hannah Smith father Dave Smith wants ASK.FM banned
Her father Dave Smith announced to Facebook friends and family of the tragedy on Saturday, "On Friday morning my daughter was found hanged  her ask.fm account and someone had been telling her to die.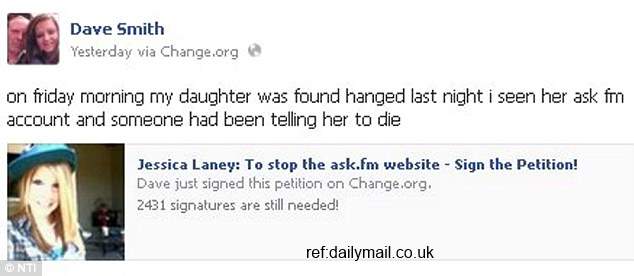 Dave has spoke on how ASK.FM should be taken down and be blamed for the deaths of people who have been bullied on it. "The fact that these people can be anonymous is wrong. The person that created this website should be done for manslaughter. Any parents that have children, please don't let them go on this site." At the moment, there is a petition online at ePeitions that is setup to get ASK.FM banned. This is not the first time ASK.FM has hit the headlines. Ciara Pugsley died by suicide after abuse on ASK.FM, Erin Gallagher 6 weeks later, Lara Burns and many other teenagers globally over the last few years have been victims of Cyber-bullying. It's all too familiar to us all in 2013 the negative effects of social media.
Response from ASK.FM about cyberbullying suicides
When ASK.FM found Mark Terebin was asked whether he should close the site after the tragedies in Ireland with cyber-bullying suicides this is his reponse on his website:
Please tell us why you will not talk to the Irish people regarding the deaths by suicide of two young Irish girls because of bullying they received through this site?‎
elaine
"Mass media is knocking on wrong door. It is necessary to go deeper and to find a root of a problem. Its not about the site, the problem is about education, about moral values that were devaluated lately. Ask.fm is just a tool which helps people to communicate with each other, same as any other social network, same as phone, same as piece of paper and pen. Don't blame a tool, but try to make changes… start with yourself… be more polite, more kind, more tolerant of others… cultivate these values in families, in schools.Suicide is not something to encourage via mass media. The more you promote suicide, the more it happen. Do you think mass media cares? They want scandals, they want sensations and finally they want money. Sorry, but we do not want to participate in it.What happened is a true tragedy and we give our deepest condolences to the victim's family and relatives."

Related articles