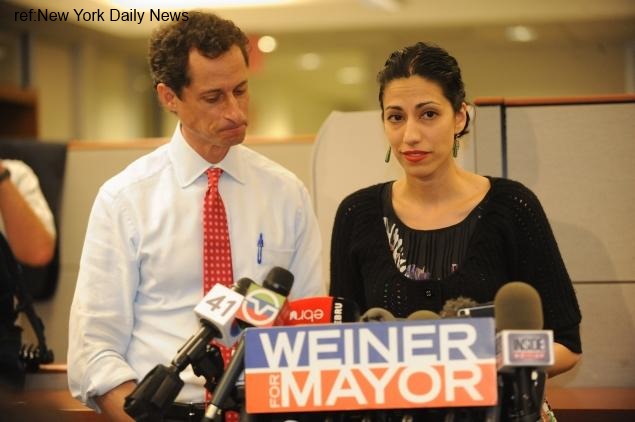 Anthony Weiner running for Mayor of New York, is caught in a tragic circle of ladies accusing him of sexting them. Back in 2011, Anthony Weiner had to leave congress after messages and pictures of a rude nature were send to women online, was revealed to the public. His reaction then was to spend $45,000 to hire a private investigator to find out who hacked his Twitter account where the message came from. He admits he does not know how many of these sex texts are still out there. 3 women have recently confessed to being contacted by Anthony Weiner. Interview of one lady called, Sydney Leathers confirmed she got messages from Anthony Weiner about how "He learned from his mistakes and he is a changed man."
Bill Clinton begs Anthony Weiner to pull out of mayor campaign
According to a Quinnipiac University Poll, Anthony Weiner has dropped from 1st place with 26% of the votes to 4th place with 16% of the votes after one week. In the same poll, 53% people said Anthony Weiner should pull out of the race for mayor. In response to the poll, Anthony said "As I've said before, polls don't change anything. But I continue to be grateful and humbled by the continued support of so many New Yorkers who are willing to give me a second chance." Anthony's wife Huma Abedin was seen having lunch with Hilary Clinton's long time spokesman and colleague.
Danny Kedem- Anthony Weiner's campaign manager resigns
On Sunday 28th July, Anthony Weiner's campaign manager resigned after all the scandal about sexting. Danny Kedem was a campaign controller for Hilary Clinton in her campaign in 2006 also. This is a loss to Anthony now, as he has to spearhead the campaign himself. Things are not looking good in all fronts. When interviewed about New York Daily News whether he is still sexting, his responses were:
Q. Is there yet another woman's shoe about to drop in this campaign?
A. I have no idea. These are people who I thought were friends, people I trusted when I communicated with them. But who knows what they might do now. But none of it is new. It's all old stuff. So I'll be in this race for at least the next 44 days. And I think I can win.
Q. There is no one you are sexting now?
A. You can quibble about beginnings, middles and ends but what we're talking about is over a year ago.
Bill Clinton not impressed with comparisons to him and Monica Lewinsky
American people and pundits are comparing this situation to that of Bill Clinton's sexual scandals back in 1990's. Because its sex and politics, that is only where the comparisons can be found. Although like Hilary Clinton, Huma Abedin says she will stand by her man through all these allegations. Major difference in this case is, Bill Clinton was president of America at the time and the World was listening.
Should people in politics get the same backlash as a non-political person would in this kind of scenario?
Related articles