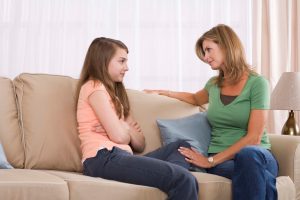 Adolescence is when most of us make bloopers, seek for the stuff that gives instantaneous contentment, and run after the glitters without considering the consequences. This is the phase when we think our parents have grown old and did not understand us. Sometimes we even scold them for being so nosey about our routines and happenings. But when this phase passes, we get to know that our parents were absolutely right. They were pretty wise about the matters of our future and even our heart.
Time passes on and we found ourselves where once our parents were. We realize that likewise we, our kids do not like us to be so nosey about them. This is the time when we need to put one step ahead of our elders and secure our kids from the cruelties without making them so uncomfortable. Given are the 3 ways how parents can ensure the security of offspring without being too inquisitive.
Strengthen Parent-Child Relationship
Parenting is a tough job that needs a lot of efforts and time. Rather than being an authoritarian mom or dad with an intent to make your kids follow your directions, try to be a friend to whom your kid would love to listen and follow. Maintaining a close bonding and open communication, you can stay involved with your children in each phase of their lives. A strong parent-child relationship will make your kid comfortable sharing everything, seeking help and following instructions.
Tell your kids that you love them and they are more important to you than anything in the world. Play with them with their toys and sing songs so they can enjoy your company. Take them out for having dinner or to their favorite spots, and let them talk more so they do not lose interest in conversation with you. Give your kid a warm welcome on coming back to home. Politely ask him about his day, but do not probe him for each and every detail.
Once your child starts to trust you, he will let you in on something he was hiding. Do not scold him if he shares any unexpected incident with you because it will scare him away from such revelations.
Set Rules to Relish Freedom Securely
Children want freedom and independence and it is equally important for them to discover themselves and explore life. At the same time, they need guidance to stay on their track and not lost into dangerous paths. Rules and regulations can better direct your kids, help them learn self-discipline and develop positive traits. Make general house rules that must be mandatory for the entire family. These will help you determine what behaviors are acceptable and what not. For example, coming home before sunset, forbidding taking foods to the rooms and requiring them to have it at the dining table with other family members. Here are a few rules that you can set for your teenagers to let them experiment with their independence but in a safe way.
Permit your teen to drink occasionally, but make it clear that there is a NO for drunken driving. Even a single accident or drunken driving incident will put an end to the driving privilege. Also, do not travel with someone who is drunk while driving.
You cannot prevent your teens from drinking because they are likely to experiment it once in high school, but you can limit the alcohol consumption for them. Underage teens should not be allowed to drink at all.
Coming late at home should not be allowed to anyone. Set a reasonable time for your teens and even adults to come back to home. For underage teens set a bedtime as well.
Do not permit home parties when parents are away because teens' unsupervised private parties can attract all kind of individuals, and there may be dangerous people as well.
Make sure your kid seeks permission before planning an outing or a date. Tell them that dating is allowed but at a certain age. Also, kissing, touching or sex is not allowed before a specific age.
Do not allow physical or verbal abuse including gossiping, name calling, bullying, and any aggressive behavior both at home and away.
Set time limit for using a computer system or mobile phone to make sure your kids do not get addict to these digital devices. Tell them that they cannot use their phone at the dining table, and cannot talk to their friends after 9 pm.
Such rules may prevent them from doing something inappropriate they were doing behind the back of their parents. If anyone breaks the rules, he must face the consequences which should be fair and impact only the person who has broken the rule.
Take Help from Technology
While the technological advancement has put our teens in dangers of cyber bullying, pornography, and online sex crimes, it has also enabled parents to monitor the activities of their offspring without letting them know. There are scores of mobile phone applications that allow parents to track the location of their kids as well as their activities on the internet and in real life. Once you install the app on your kid's phone, you will be able to see where your kid is and with whom; what conversations he has been making on social media and instant messaging apps; what messaging or calls he is making and receiving and from whom. Without staying on your kids' heads and probing details, you can know almost everything about their cyber and real life with a simple mobile phone app. It will help you stay alert and take prompt actions in case the situation goes against your loved ones.
The Bottom Line
Parents always want best for their kids, but the conflicts arise when they fail to put a line between protective and over-protective. Build a healthy relationship with your children so they only come to you in any unfavorable situation. Rather than imposing your decisions, let your kids make their own choices. Teach them how they can enjoy independence but with discipline and in a safe manner.
Author Bio:
Cathy is a veteran analyst who gets her hands on writing multiple areas and her works on spy app for android phones to empower women save their lives, relationships and become successful. She contributes actively through her top-notch articles as well when it comes to digital marketing. To know more about her follow on twitter @cathyalan31
Related articles