Bringing a Worldwide Hero to a local Venue
UPDATED: 3rd December 2013
Gerry Duffy is coming back to Donegal due to success from his first workshop in conjunction with Joe Coyle of www.Jcfc.ie If you missed Gerry the last time or you want to get another push towards your goals, make the 18th January a date in your calender. He will return to Solis Lough Eske Castle, Donegal Town again. Please see below how to book
Original Post:
Not often do we get the opportunity to hear heroes on our doorstep. For the people of Ireland who attend major seminars and workshops to improve their wellbeing, businesses, sports abilities, and many other aspects of life, they normally need to trek off to the capital city. But not this month!! Westmeath man Gerry Duffy is coming to Donegal Town to give an exclusive workshop to business owners and sports enthusiasts an opportunity to learn more about achieving goals and not just making a dream "to-be" list. Gerry speaks from the hip. I once heard Gerry, in the same venue he is returning to, Solis Lough Eske Castle, talking about his struggles to where he moved to in his life. The mouth dropping audience hung on his every word as his emotions and positivity grimed from his athletic physic. I for one, was privileged to actually get speaking to him via an introduction by Joe Coyle. Being in my 2nd year of completing triathlons, I knew the training and dedication that is needed to race one Sprint Triathlon (750m Swim, 20K Cycle, 5KM Run).

It's only a wee spin down the road
But to hear how a man carried out 10 x Ironman races in 10 days consecutively, only words out come to my head was "He is mental and unreal". An Ironman race consists of swim 3.8km, cycle 190 km and run a full marathon of 42.2 km to finish. Think about completing one of these between a 9hour and 18 hour period of endurance!!! Now multiply by 10. He mentioned that on day 10, he could not walk out from the swim and had to be carried from the water to the bicycle, just before his 190KM cycle. What kept him going mentally was the fact that he had 93% of the race completed and it's only a "wee spin" to the finish line.
Can you overcome a challenge?
Questions to Ask if yourself!
Do you set goals?
Do you achieve your goals?
Setting is easier than getting isn't it!
Are you setting 'easier goals' now because of failure to achieve more difficult goals in the past?
Would you like to go from unhealthy to super healthy, unfit to super fit?
Do you have personal, business or sporting goals you want to achieve in your life?
Where would you turn to for help?
Preferably to someone who had set and achieved massive goals in their life time.
 Gerry Duffy is one of those people.
Amazingly this previously, extremely shy guy has become one of Ireland's leading motivational speakers, particularly in the area of goal getting ( we are all reasonably good at setting goals)
So what makes Gerry different? He walks the walk ( and runs and cycles and swims 'the walk')
WORKSHOP DETAILS Venue: Solis Lough Eske Castle, Donegal Town, Co Donegal Date: Thursday October 10th 2013 Time: 08.30 -17.00 Price: €149 To reserve a ticket to this unique one day event call Joe Coyle on 087 257 99 31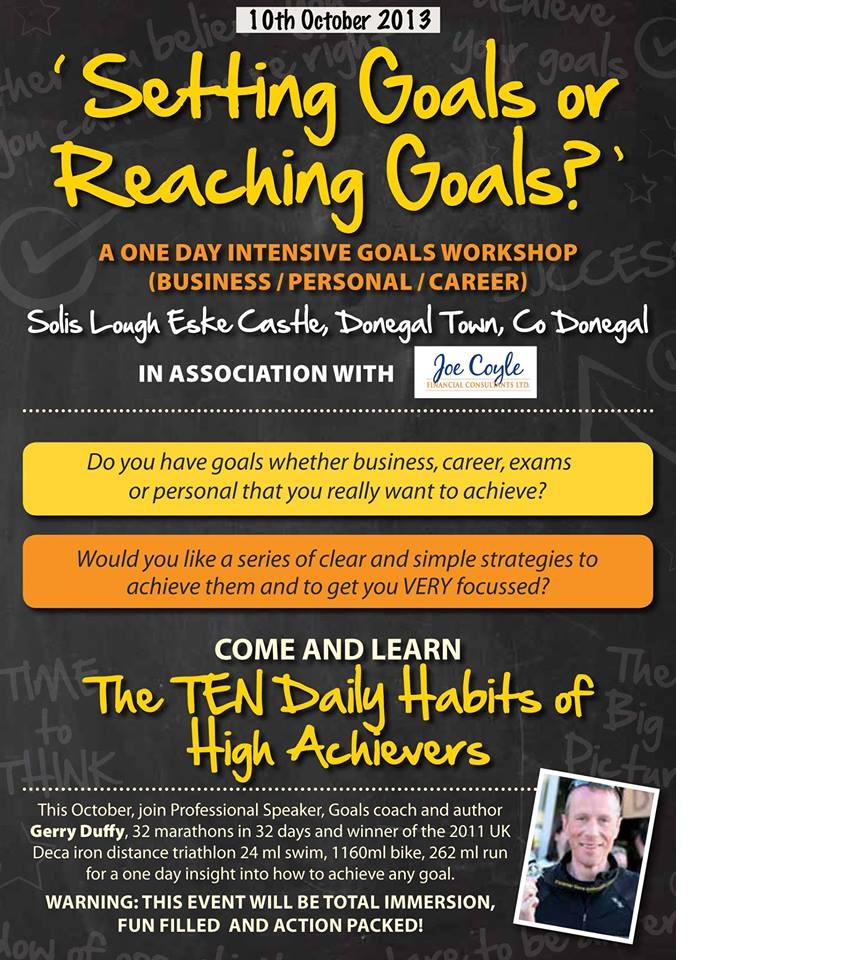 He sets goals, visualizes their outcome, prepares painstakingly, takes the required actions and guess what, achieves his results.
Among his life achievements are ……….
Lost weight/Gave up smoking
Became healthy and fit
Set up a successful business
In his sporting life he has…..
Run 32 marathons in 32 consecutive days (one in every county in Ireland)
Won the 2011 UK DECA Enduroman Iron Distance challenge.
About Gerry Duffy
Gerry also held a deep fear of public speaking. However in the past few years, he has addressed some of the leading companies in the world such as Facebook, Google, Bank of America, Standard Life, Oakley and Coca Cola. His speaking portfolio includes inspirational topics and practical business strategies to help people and companies achieve their personal or professional goals.
Gerry has also written two best-selling books. His first book, 'WHO DARES, RUNS' reached number four on the best sellers list in Ireland (non-fiction) within six weeks of its release in 2011. It was also nominated for the WILLIAM HILL Sports Book of the year. His second book 'TICK TOCK TEN' was released in April 2013. He has been featured in Red Bulletin magazine as well as the American online news site, The Huffington Post.
How can I learn more?
To book this workshop, Contact Joe Coyle @
Mobile 087-257 99 31 Tel / Fax 074 97 35602  Email joe@jcfc.ie
https://www.facebook.com/settinggoalsorreachinggoals