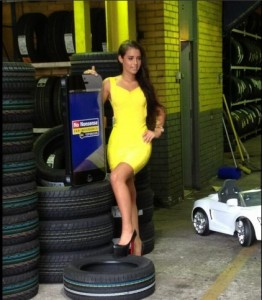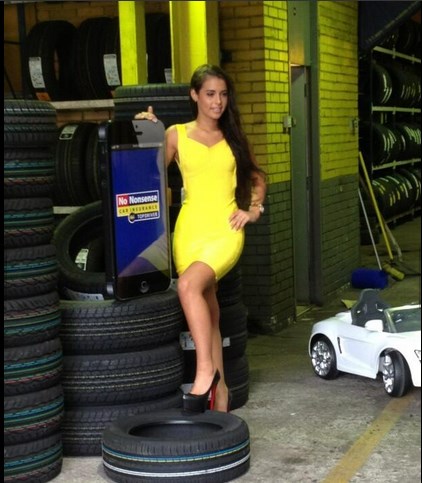 Irish Glamour model Zoe Whelan stands up to the taunting and hate she receives online, mostly from jealous girls who would like to date her One Direction singer Niall Horan.  Whilst shooting for the No Nonsense insurance incentive, Zoe answered some questions from the media.  Zoe commented in an interview with The Hearld journalist Kirsty Blake Knox, "A lot of girls have said nice things. But you get nasty and mean comments. I've had a few death threats which is really scary. I just ignore them; I try not to pay them any attention."
Its great the her self esteem is strong enough to stand up for herself and not feed on the negativity that some people will send her direction.
Niall Horan from One Direction is rumoured to be dating Zoe Whelan
The death threats and hate mail began when rumours that Zoe Whelan was in a relationship with One Direction member Niall Horan. Niall Horan has been linked to Cyber-bullying in the past, as his ex-girlfriend Holly Scally got similar threats on her Twitter feed when people found out that they were dating. One message on her Twitter feed that horrified her was "RIPHollyScally" was enough to frightened Holly. Holly's 9 month relationship with Niall included dates to the chip shop in Mullingar and she admitted that Niall's serenading of her was Justin Beiber songs which impressed her.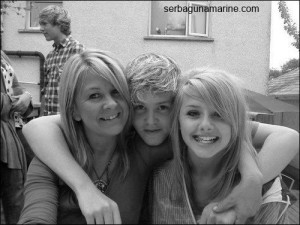 Niall Horan backs Cyber-bullying Campaign
Back in late 2012 and early 2013, Niall Horan stood out of the crowd and back the campaign; Delete Cyber Bullies, which was launched by the Irish Sun tabloid newspaper back in 2012. Horan needed extra security whilst on tour after this freedom of expression statement to the world. All security guards were to be armed at all times as a request from the band's management staff in case their lives became in jeopardy. One Direction's Zayn Malik also was a victim of Cyber-bullying as he had to come off Twitter in 2012, because was said to be bullied because of his race and religion.
Is Zoe Whelan a voice for other cyber-bullying victims?
The confidence of Zoe Whelan against the war on the slags, threats, hurtful words on Twitter is not deteriorating her ability to hold herself as of yet. Fair play to Zoe on this and this may give other young people a glimmer of hope who too are being victims of Cyber-bullying. Speaking up is hard for most people, but seeing a public eye person speak out at her bullies is a boost to combat bullying effects.
Below is a message on Instagram of what someone said about Zoe Whelan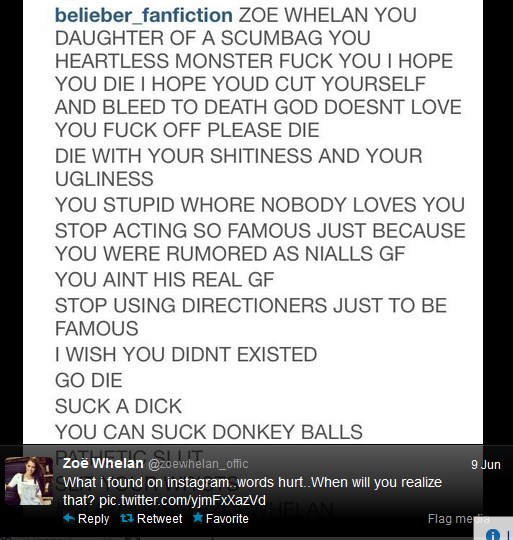 A message on Zoe Whelan Twitter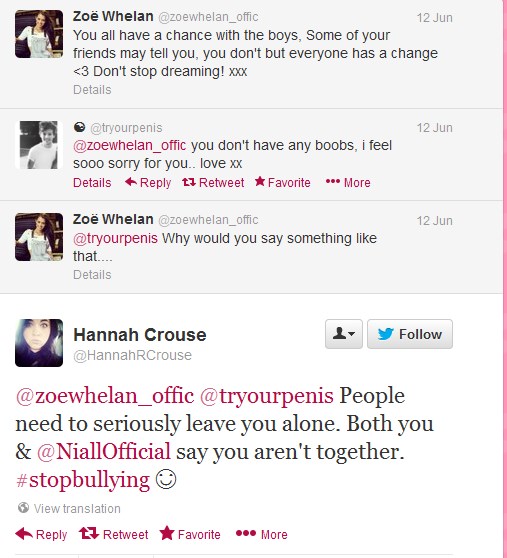 The best of luck to Zoe in her future and hope she can keep her strength up against these faceless bullies online. For children wanting tips to stay safe online during the summer please click this link.
Do you think Zoe is right on her stance, please leave comments below?
Related articles